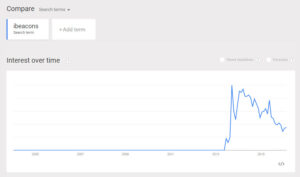 Are iBeacons a solution in search of a problem? Launched by Apple in 2013, 3 years later there is little evidence that they have found a mainstream application to live up the expectations for the technology. It seems most people aren't interested in triggering special offers when they walk past merchandise in shops. A search on the Google Play app store for shows a number of general scanning apps but none have more than 10,000 downloads (I was not able to find download stats from the Apple app store. Searching Google for stories of iBeacon deployments or case studies shows pages from 2014. General interest (from a Google search perspective) in iBeacons has dramatically dropped off since early 2015. Despite lots of trials by major retailers around the world I've not been able to find evidence that any have led to successful commercial launches.
So we have a low-cost, simple technology which works, large companies on the supply and demand side investing in app development as well as pervasive smart phone adoption providing a large user base. Despite this, the technology had been able to find a compelling commercial application which shoppers will use.
What does this tell us?
If you build it they may not come;
Users have enough alerts on their phones already;
Users don't want to install retail apps to be marketed to;
Discounts on their own are not compelling enough reasons to install an app;
Aligning the interests of technology vendors, app developers, retailers and users is not easy;
Internet of Things (IoT) developers need to be wary.