The UK's Department for Digital, Culture, Media and Sport (DCMS) has released a report ("Increasing Access to Data Across the Economy") from Frontier Economics with advice from Professor Diane Coyle (co-director of Cambridge Bennett Institute) which outlines a framework to help DCMS prioritise potential interventions to increase the availability of data across the UK economy. The framework presented in the report presents some public policy approaches to incentivise the private and third sectors to share data more freely for the broader social and economic good.
The report is a useful start to formulating policy in this area. Despite research on "information societies" and the "information age" going back decades it shows we are still at the early stages of really understanding the economic role of data in society. 
Future research needs to be integrated with our understanding of how public datasets are being used to drive innovation and social change. The overlap is huge and data flows between public and private entities should not be treated as separate issues.
The report has value but should not detract from the need to improve data sharing from the public to private sectors. Open data initiatives by national and local public bodies have shown promise but there is still much work to be done, particularly in terms of solving technical issues such as the wider availability of robust APIs for data access and consistent use of common data formats and metadata for reuse and findability.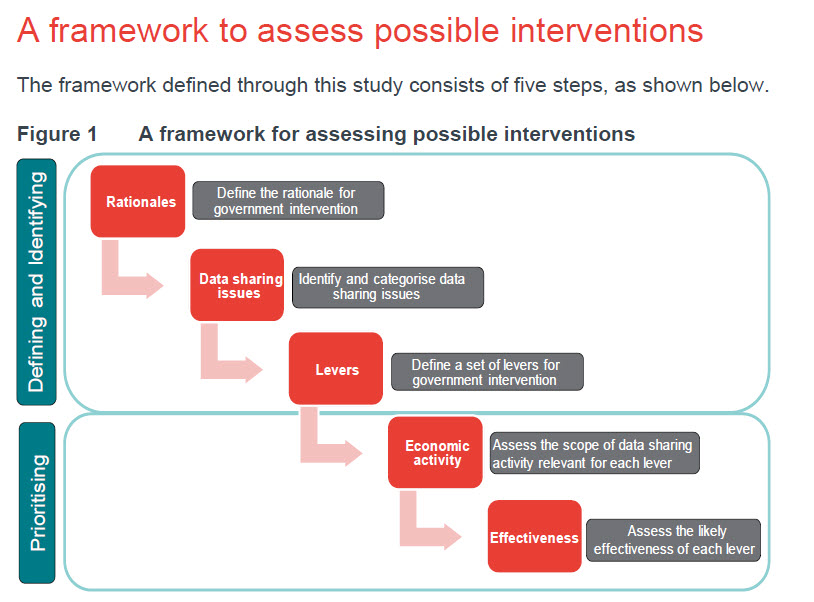 Data sharing report's key findings
The analysis presented in the report indicates that a package of effective interventions could include all of the following:
– improving knowledge and understanding of data sharing;
– improving or demonstrating incentives;
– supporting ways to address risk;
– reducing cost of sharing through data foundations (to help improve findability and the interoperability of data);
– reducing the (perceived – their word) regulatory burden;
– mandating data sharing.
According to the report's authors:
"Addressing risk and reducing the cost of sharing are the levers that, based on our initial assessment, are likely to have a direct effect on the largest amount of economic activity. However, improving incentives and increasing knowledge of data sharing are particularly likely to have wide-ranging, indirect effects. Research on the effectiveness of existing interventions is very limited, but there is some evidence for the effectiveness of demonstration activities and for mandating data sharing where there is a clear case that this could lead to the development of additional services (e.g. current account comparison services in the case of Open Banking) or to increasing choice and competition." (page 5)
Why government intervention is needed to improve data sharing
The report presents 3 categories for rationalising the need for government intervention:
– setting out a market framework that takes into account issues such as intellectual property regime and whether it strike the right balance between encouraging innovation and protecting rights holders;
– dealing with market failures such as providing incentives for organisations to share data where the broader social and economic benefits outweigh the benefit to the owner of keeping it private;
– to provide a way to prevent adverse market outcomes such as the creation of data monopolies.
Key data sharing issues and solutions
6 key data sharing issues are identified in the report:
– Lack of incentive to share data;
– Lack of knowledge about potential uses of data;
– Commercial, reputational and ethical risks;
– Regulatory and legal risks;
– Costs of data access / sharing;
– Missed opportunities to use data in the public interest.
To remedy these issues, 6 levers were identified that the government can use:
– Improve knowledge and understanding of data sharing;
– Reduce costs of data sharing through better data foundations;
– Support new ways of addressing the risks of data sharing;
– Improve or demonstrate incentives for data sharing;
– Reduce perceived regulatory burden associated with data sharing;
– Mandate data sharing in the public interest.
The report then goes on to map the data sharing issues against these levers:
Supporting evidence for data sharing benefits
The report provides some real-world examples to illustrate its main points:
– inefficiencies and technical barriers to data sharing in the IoT – example of consumer IoT devices and lack of data portability between different devices from different manufacturers – fitness trackers from Garmin and Fitbit and home assistants from Google and Amazon.
– case studies of different ecosystems to test the effectiveness of potential levers:
energy smart meters;
APROCONE – platform for aircraft component design;
CityVerve – platform of platforms for local data sharing;
OneTRANSPORT – data marketplace for supporting mobility solutions;
HiLo Maritime Risk Management – data sharing initiatives to improve maritime safety;
The Weather Company – weather data platform to help improve decision making in critical sectors.
Across these case studies the benefits of dispersed data, lower costs for data sharing and building of trusted relationships between data users are highlighted.
Finally, the report maps the data market values relevant to each lever in total and by industry sectors:
Data sharing report conclusions
According to the report's authors, preliminary evidence indicates there is scope for government intervention to help data sharing outside the public sector. Addressing risk and reducing the costs of data sharing are likely to have the largest economic impact. While evidence is limited for existing interventions, there seems to be some evidence that demonstration activities can have an impact. The report and its findings should be seen as a starting point for developing public policy in this area. The authors outline next steps for future research including better mapping of the data ecosystem and its key players as well as more qualitative research around how organisations are currently sharing data. 
Commenting on the report, Professor Diane Coyle, co-director of Cambridge Bennett Institute and advisor to this research believes:
"It is important to ensure that the use of data in our society and economy is fair, secure, and delivers on its potential to help tackle major challenges. It should be acknowledged that data markets are complex and span an enormous range of sectors and policy areas; it remains the case that we do not have much data about data. The report's approach of identifying levers, to overcome the barriers to realising the full value of data for society, is a useful way to address this challenge. The government, businesses and nonprofits will need to act together to maintain momentum and deliver real-world change."