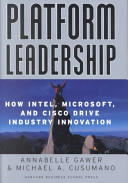 I'm currently reading Platform Leadership1)Gawer, A. and Cusumano, M. 2002. Platform Leadership. Boston: Harvard Business School Press by Gawer and Cusumano which details how Intel, Microsoft and Cisco became platform leaders in their sectors. This is not your usual management book which relies on anecdotes and selective data to support a hypothesis. The authors conducted many interviews with executives at the firms and present a highly readable and coherent account of the rise of these companies. Obviously, the tech world has moved on a bit over the last 15 years but the accounts in this book of how to build successful software and hardware platforms hold many lessons for companies trying to do the same thing in the internet of things sector today.
One passage caught my eye this morning,
IAL2)Intel Architecture Lab – Intel's division which promoted cooperation between industry players to extend the reach and capabilities of the PC platform maintains significant influence over the design of interfaces that other companies use to interconnect their components to Intel's chips. Because IAL has successfully obtained this reputation for impartiality and has been able to influence industry standards, Intel can practically guarantee that there will always be a supply of innovative complements around its new microprocessors – unless a completely new platform and set of complementors to that platform were to emerge without Intel's influence or input. (Page 78)
How quickly that new platform emerged just a few years after that paragraph was written.
This analysis from the Seeking Alpha website a couple of days ago highlights how Intel's strategy which worked so well in the age of the PC no longer works in the age of the smartphone,
Intel is a vertically integrated semiconductor company that designs, manufactures and markets its own chips. The integrated Intel strategy stands in stark contrast to the more so specialized wings of the highly complex semiconductor industry.
It seems that Intel is perhaps surrendering the mobile space to ARM and others but, as the article points out, is  focusing more on the Internet of Things,
For its latest quarter, Intel classified its businesses according to Client Computing, Data Center, Internet of Things, Software and Services and Other groups. The Client Computing Group then included chip sales to power desktop, two-in-one, tablet and smartphone machines. In effect, Intel has simply folded its old Mobile and Communications Group into the PC Client unit.
It will be interesting to see how Intel's IoT strategy develops.
| | | |
| --- | --- | --- |
| 1. | ↑ | Gawer, A. and Cusumano, M. 2002. Platform Leadership. Boston: Harvard Business School Press |
| 2. | ↑ | Intel Architecture Lab – Intel's division which promoted cooperation between industry players to extend the reach and capabilities of the PC platform |