Pitchbook's Leah Hodgson has written about the impact of lockdowns on the London startup scene. Like most office-based organisations, startups are questioning the need for expensive office space in the capital. Hodgson sees a number of them moving to more remote ways of working post-COVID.
While this may be bad news for developers and building owners, it does not mean London's position as a prime European location for founders will disappear any time soon. This is a view supported by our discussions at Information Matters with startups and investors. There is still a strong desire to have a base in London while also making the most of remote working to attract talent from elsewhere. This is a pattern seen in the US with San Francisco losing its appeal to new tech companies. Expensive office space and lack of affordable housing has seen places such as Houston and Colorado attract founders and their teams.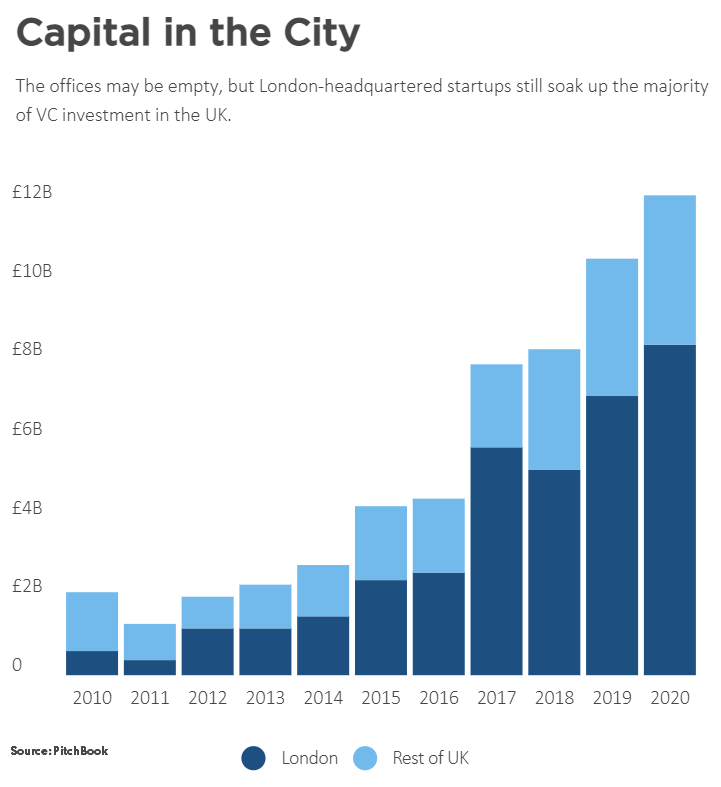 For the UK, Hodgson points out that a move to more remote working patterns may help solve the Brexit problem of the end of free movement for workers from the EU to the UK: Harnessing teams of remote workers across the EU with a base in the UK could be the natural evolution for many tech startups in this country. While London will be the primary location for such bases, remote working will also favour other regions and cities where living costs are less.
Hodgson cites Tom Ladds, CEO of recruiting firm Hired by Startups:
"I think that startups will still be based in London, but the role of a company's headquarters will be less important, There's always been this fallacy that you've got to be in London to thrive, but I think the pandemic has shown that you can still access great talent and excel outside of the UK capital. We might see more startups popping up elsewhere and more people will start moving out."
Much will depend on the broader business environment that emerges in the UK post-Brexit and COVID. Public spending on better transport infrastructure, housing and internet access will be a large part of this.