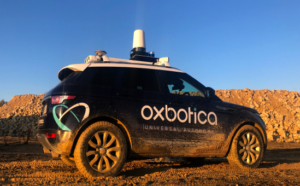 Oxbotica, developer of a software platform for autonomous vehicles has raised $47m (£35m) in a Series B round to accelerate its rollout across a range of industries.
Investors in this round included BGF, Halma, BP Ventures, Tencent, Venture Science and HostPlus. 
This brings total investments in the company to $76.4m.
Oxbotica describes itself as building
"software for real-world application, drawing on principles of physics, robotics, maths, AI and a dedicated team to perfect our technology."
Founded in 2014 by 2 Oxford University professors, the company has grown to more than 140 employees and is now one of the world's leading autonomous driving software companies. Ozgur Tohumcu, CEO of Oxbotica, said of this latest investment:
"We are very excited about the amazing endorsement we have received from new and existing investors. This round of investment marks a key chapter in Oxbotica's continued growth and pushes us forward in commercialising our autonomous software today, through key strategic go-to-market partnerships. The high-quality and global footprint of our investors cements our position as a leader in autonomy. We will use funds raised to accelerate the global deployment of our transformative technology."