Getting the pricing right for a SaaS product right is a potential minefield. Charge too little and it can be difficult to raise prices while still retaining customers later or charge too much up-front and you risk putting off new prospects.
Then there is the issue of tiering and a freemium approach; give away too much and you can be stuck with servicing expensive, non-paying customers who have no intention of trading up. The temptation for many startups is to go for growth at the expense of a sustainable pricing model which can cause headaches further down the line. 
HubSpot have written extensively about optimising freemium pricing models  as well as offering a free downloadable pricing strategy calculator. As Jeff Cox at Hubspot points out:
"The main goal of using a freemium acquisition model is to decrease the customer acquisition cost (CAC) for your business. By eliminating the cost to sign up for an account, you're effectively lowering the bar to entry for new users starting to use your product. This makes it possible to avoid traditional overspending on paid marketing channels and convoluted sales processes to focus more on building trust and highlighting the value of your product to free tier users through actual usage."
Adopting a freemium model is still a controversial strategy for many. Patrick Campbell, a well-known writer on such matters, has argued for and against freemium over the years but has recently decided it has a place if implemented correctly. Part of the reason for his change of heart are the rising costs of customer acquisition. He points to a 70% rise in CACs since 2015 as competition for visibility on ad networks such as AdSense has become more intense and expensive. Increased competition amongst SaaS startups is also a factor:
"In the past, a product team's main competitive advantage was all about speed to market. Beating the competition depended on their ability to ship faster than everyone else. But after a long time of shipping and shipping and shipping, we wound up with a market that's overflowing with a massive number of choices. Based on the basic rules of supply and demand, this has driven value down."
Research from OpenView Venture Partners also offers useful guidance for any SaaS firm, startup or established, that is struggling with their pricing strategy. OpenView has conducted extensive research on a wide range of SaaS firms. Some of the key findings from their survey of more than 2,200 SaaS companies include:
Most companies have considerable potential to improve their pricing;
Only 39% of companies are using value-based pricing;
Most companies are not testing their pricing strategies;
Discounting is becoming less popular;
Early stage companies are generally charging too little;
Mature startups are employing pricing professionals;
Companies need to think carefully about whether to publish their prices;
Pricing strategies should be reviewed on a regular basis.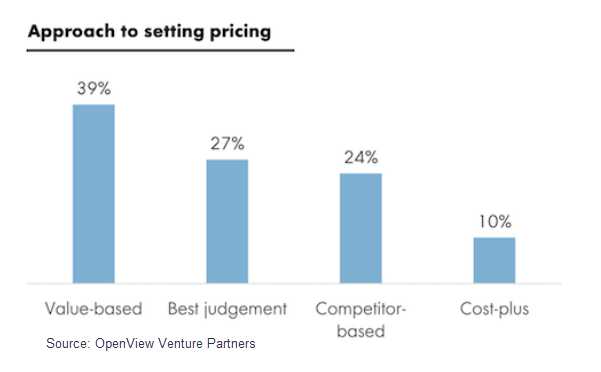 Although the freemium model only received its name in 2006 when a commentator on Fred WIlson's blog coined the term, the practice of giving away a service for free predates it by several decades. Software developers were giving away cut-down versions of their products on CD in the 1980s with the hope that some users would upgrade to the full version down the line. In that sense, the principle will always have a place but where and when it is appropriate will change over time. Zero distribution costs enabled by the internet put freemium on steroids for developers but as the market has evolved so too have strategies for implementing a freemium model. If software development costs fall dramatically we might expect the economics of freemium to change accordingly. In many ways, freemium should be considered more a marketing strategy than a pricing one.
Whether freemium is the right approach or not for you, planning and testing your SaaS pricing strategy is essential. As your competition intensifies and customers become more sophisticated in their evaluation of SaaS options, implementing a "set and forget" pricing model is no longer an option. Value-based pricing, whatever that looks like in its implementation, should be a core driver of almost any strategy.