Do the activities and investments of the big 5 tech giants (FAMGA – Facebook, Amazon, Microsoft, Google, Apple) have much relevance to startups in the UK looking for product/market fit?
Apart from offering aspirational examples of what is possible if that fit is achieved and scaled accordingly, it is often difficult to find applicable lessons. However, the release of research by CB Insights, the 2021 FAMGA Tech Bundle as they call it, may offer some useful lessons for up-and-coming competitors. Focused on all the acquisitions of FAMGA over the last 10 months as well as deep dives into their activities in insurance and healthcare, the research traces some patterns that could be useful.
Highlights from FAMGA acquisitions include: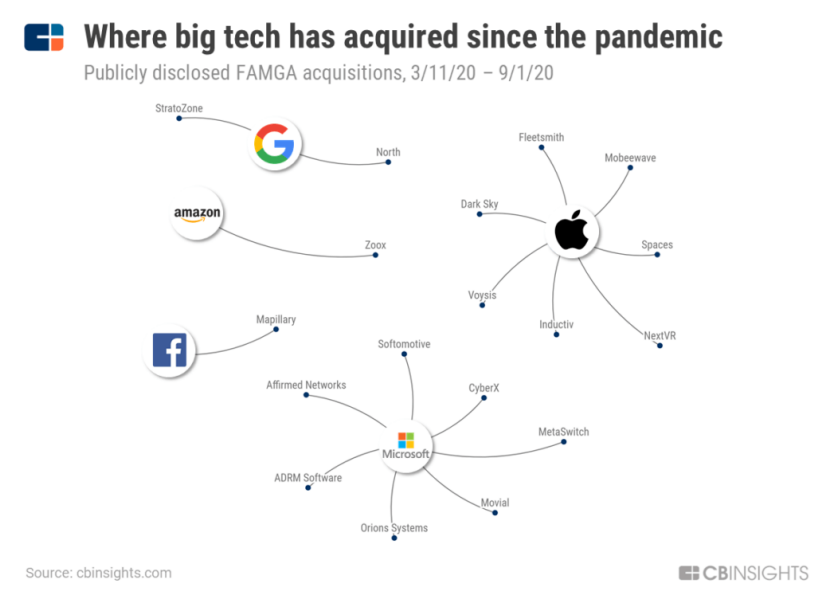 From the healthcare report:
Facebook: The social media giant aims to leverage its diverse user base & the unique user behavior data collected. Its healthcare effort primarily focuses on distributing healthcare information and organizing users with common health interests. The company could become the digital front door for healthcare, similar to Tencent's WeChat in China.

Amazon: The e-commerce & cloud computing powerhouse attacks healthcare with its experience building back-end infrastructure & 110M+ loyal Prime members. Amazon counts drug supply chain, telehealth, and cloud computing among its healthcare endeavors today. In the future, it could upend insurance by creating a marketplace for payers and providers.

Microsoft: The company owns the world's most popular workplace apps. Paired with a commercial focus, Microsoft is poised to drive quick adoption of these in healthcare. Teams & Azure products have already gained traction and more apps & services could be on the horizon.

Google/Alphabet: Search, using advanced technologies like AI, is in Google's DNA. The company is bringing this expertise to healthcare by building better search experiences for providers, patients, and researchers. It could also upend how education is delivered in healthcare.

Apple: Apple is focused on helping its users securely manage and organize their healthcare data. On top of that, Apple will build a healthcare-focused app store for developers and researchers.
From the insurance report:
"Google, Apple, Amazon, and Facebook have garnered headlines for their moves in financial services industries — particularly payments — in recent years. While the companies' presence in the insurance space may not receive as much hype, it is significant — and growing. Because the big tech companies have invested heavily in digital health initiatives like personal health monitoring and virtual care, they have been able to integrate these capabilities into health insurance offerings relatively easily. In fact, Google's subsidiary Verily recently formed its own insurance company to provide techdriven employer health insurance plans."
The research from CB Insights can be downloaded free from HERE.