Tech.eu in association with Finstar has released a new report, The State of Fintech in Europe. Tech-eu will also be running an event on 10 February to discuss updated findings for this research as well as the impact of COVID-19 on the sector.
From a UK perspective, some of the highlights of this 44 page report include:
European fintech companies raised a total of €3.52 billion in 2018; this number ballooned by 150% to €8.81 billion in 2019;
From 2017 to H1 2020, the UK firmly took the lead in European fintech with just south of 500 fintech funding deals during that timeframe, with Germany and Sweden following with an almost equal number of transactions (172 and 155, respectively);
Around €8.1 billion euros was invested in UK fintech companies in the last three full years, which is 48% or almost half of all fintech financing rounds Tech.eu recorded from 2017 to 2019; Germany comes in at second place with €3.5 billion;
No less than 14 UK-based fintech scale-ups make it to the top 20 European companies based on the total size of funding closed.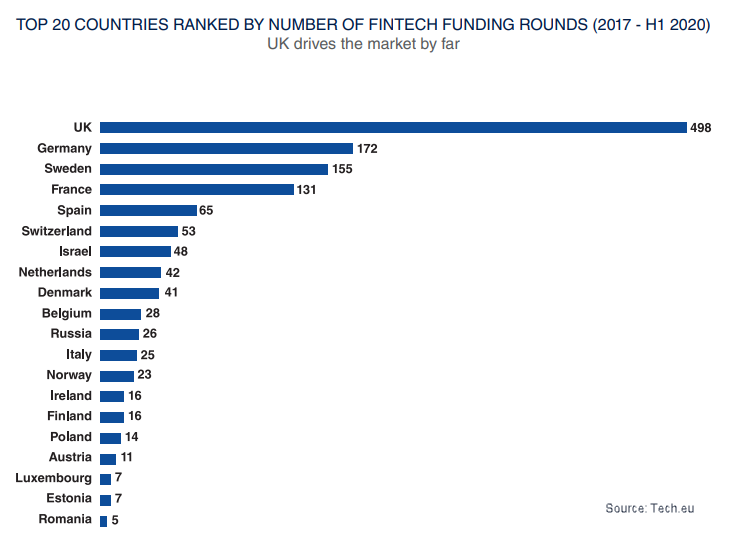 Commenting on the findings, Oleg Boyko, Chairman of Finstar Financial Group stated:
"The COVID-19 crisis has brought forward a lot of changes in the world, altering the way we work, shop, collaborate and move around. As this report shows, many trends that have been accelerated by the coronavirus pandemic have in fact proven to be beneficial to the European fintech industry. Around €10 billion of funding was raised by fintech startups and scale-ups in Europe throughout 2020, and we're seeing bigger rounds, bigger companies, and bigger ambitions. This report demonstrates that the European fintech sector is in good shape, and Finstar is looking forward to invest in the future leaders in this space."
The full report can be downloaded free from HERE.