The latest report from Tech Nation shows the UK overcame a difficult 2020 with increased VC investments in tech companies putting it behind only the US and China with $14.9bn of funds flowing in.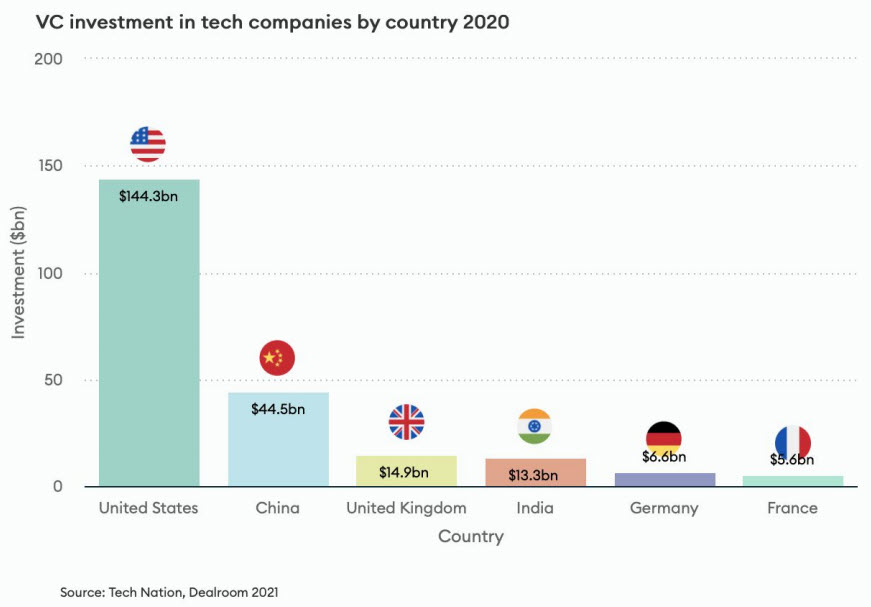 London continues to dominate as a location for these firms with two thirds of VC investments going to the capital, positioning it in 4th place behind San Francisco, Beijing and New York. Total VC investments into London were more than Berlin, Paris and Stockholm combined while UK cities comprised 20% of the 20 top European tech cities.
UK deep tech investments have grown far faster than most other countries which, while still relatively small compared to the US, indicate significant potential for driving growth across the economy further down the line as they feed into innovations downstream.
Overall, the UK high-growth company sector is valued at $585bn and shows no signs of slowing down so far in 2021. While this is broadly a success story for the UK, there are some potentially worrying trends visible within these total figures:
Investments into UK tech firms from overseas rose from 50% in 2016 to 63% in 2020. While this is a vote of confidence in the UK tech sector, it falls into the decades-old tradition of good ideas that originate in the UK passing into foreign ownership. While this is not a negative in its own right, it points to a potential need for larger and more confident investing by UK funds.
Public spending on R&D has not kept up with similar investments by the private sector. This could have important repercussions in the longer term as spinoffs from public research initiatives become fewer.
London's continued focus as a centre for investment is a strength for attracting overseas talent and investment but it needs to be balanced by a rise in investment activities outside the south east. This will unlock talent from around the country where lower costs for housing and premises is a relatively untapped opportunity.
Commenting on the report and its findings, Tech Nation Chief Executive, Gerard Grech commented,
"The UK's tech success is the result of foresight, drive and dynamism. The strong and growing tech ecosystem we have nurtured over the years is delivering stellar results. I believe that this is just the beginning of what the UK can achieve. 2021 provides us with a unique opportunity to rebuild with tech at the very heart of our economy. This is the moment for the private and public sector to work together to support founders from all four corners of the country to do extraordinary things in extraordinary times."