Research from startup tracker, Beauhurst, on UK academic spinouts paints a broadly optimistic picture of a dynamic part of the economy. Based on data from 1,424 spinouts which Beauhurst has been tracking since 2011, the research shows pharmaceuticals as the single largest grouping (236 companies) followed by "Research Tools/Reagents" (211), "Analytics, Insight, Tools" (161), "Clinical Diagnostics" (120) and Software-as-a-service (SaaS) (109). The top 5 originating universities are: Oxford (156 companies), Cambridge (140), Imperial College (92), UCL (68) and Royal College of Art (57).
Between them, the companies raised £1.3bn in equity investment in 2018 although this dropped to £1.07bn in 2019 across a similar number of deals resulting in an average deal size of £3m.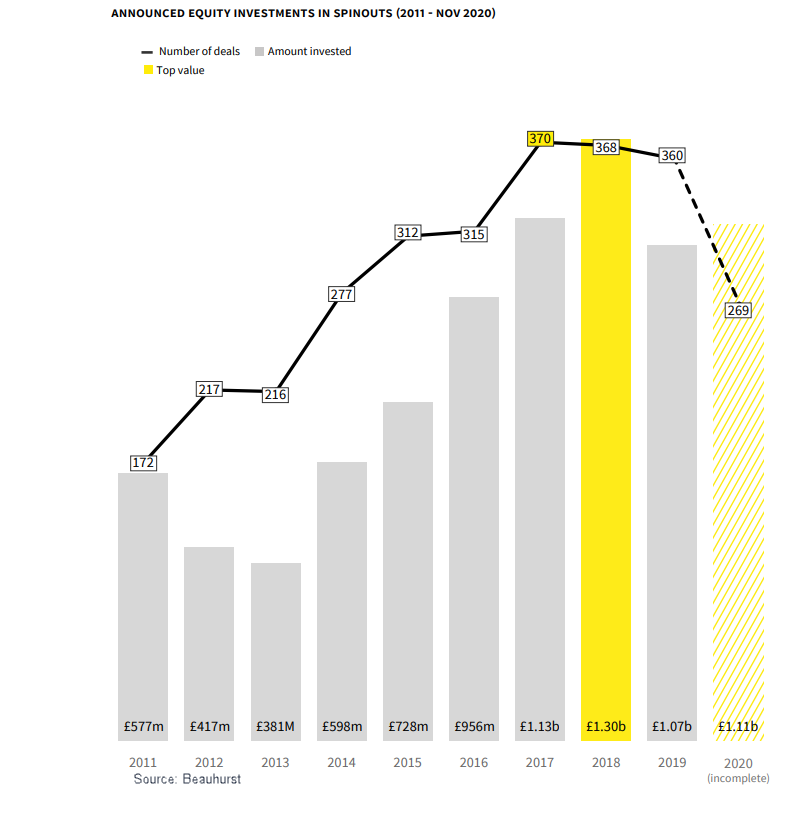 The report also details the main investors, activity by local authority, the value of Innovate UK grants as well as survival rates and exit strategies.
In his foreword to the report, Dr David Cleevely (Enterprise Committee Chair of the Royal Academy of Engineering) commented:
"Through this report, we are seeking to understand the state of UK spinouts, and through annual updates we hope to be able to track progress, the impact of any changes and draw firmer conclusions. Our ambition is to understand what it takes for spinouts to thrive. By tracking investment trends and knowing more about the processes, people and decisions that power our spinouts and the outcomes they lead to, we hope to identify best practice and incentivise change in line with the government's ambitions to cement the UK as a 'science superpower'The stakes are high. Spinouts contribute a great deal to our economic prosperity and if we can learn and improve on what we do then that will help everyone."
The report can be downloaded HERE