AgTech Market Data
The global AgTech market comprises a wide range of technologies, services, devices and software. Market sizes and forecasts for this sector vary significantly based on research methodologies and assumptions made about what to include.
Below are a selections of forecasts and estimates from research houses, government bodies and academic institutions. 
This was last updated on 4 January 2023 – please let us know if you have any data you would like us to include.
Global AgTech Forecasts
Snippet: "The global smart agriculture market size was estimated at US$ 18.12 billion in 2021 and it is expected to hit US$ 43.37 billion by 2030 with a registered CAGR of 10.2% from 2022 to 2030."
Graphic: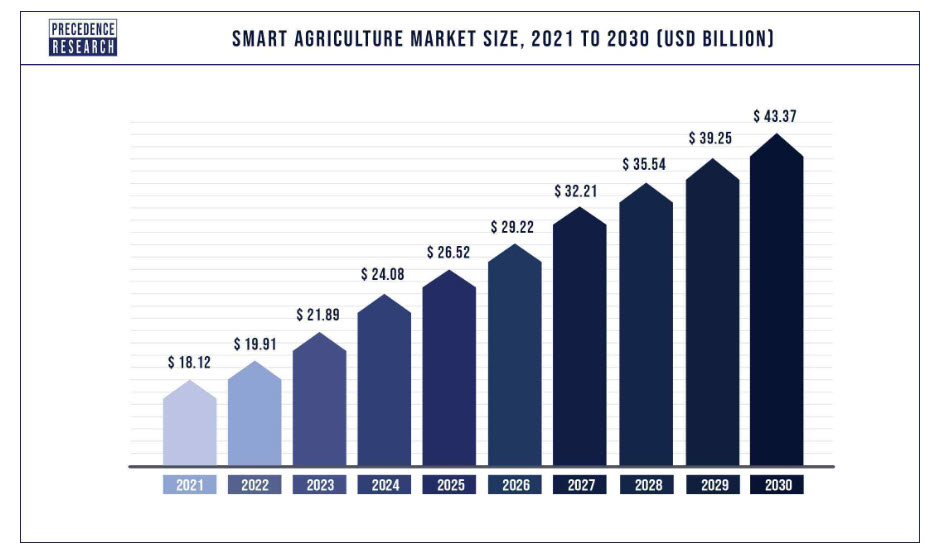 Source: https://www.precedenceresearch.com/smart-agriculture-market
---
Snippet: "The global smart agriculture market size is expected to reach a valuation of USD 36,241 million by 2030, growing at a CAGR of 10.80% during the forecast period (2022–2030). Europe is expected to be the second-largest smart agriculture market, with an expected market value of USD 9,701 million by 2030."
Source: https://www.globenewswire.com/en/news-release/2022/07/11/2477563/0/en/Smart-Agriculture-Market-Size-is-projected-to-reach-USD-36-24-Billion-by-2030-growing-at-a-CAGR-of-10-80-Straits-Research.html
---
Snippet: "The global post COVID-19 market size of the Precision Farming Market is expected to grow from USD 7,783.10 Million in 2021 to USD 15,444.94 Million by 2028 at a CAGR of 12.10%"
Source: https://www.globenewswire.com/en/news-release/2022/03/23/2408535/0/en/At-CAGR-of-12-10-Global-Precision-Farming-Market-2022-2028-Delivery-Model-and-Service-Provider-is-projected-to-expand-at-USD-15-444-94-Million-Industry-Size-Trends-Forecast-Report-.html
---
Snippet: "A new study from Juniper Research has found that the total value of the Agtech market (Agricultural Technology) will reach $22.5 billion by 2025; rising from $9 billion in 2020. This represents a growth rate of 150% over the next five years."
Source: https://www.juniperresearch.com/press/agtech-market-value-to-soar-reaching-over-22-bn
---
---
Snippet: "The global precision agriculture market reached a value of US$ 6.73 Billion in 2021. Looking forward, IMARC Group expects the market to reach US$ 14.44 Billion by 2027, exhibiting a CAGR of 13.7% during 2022-2027."
Source: https://www.imarcgroup.com/precision-agriculture-market
---
Snippet: "The global agricultural sensors market was valued at $4.18 billion in 2020, which is expected to grow with a CAGR of 15.4% and reach $9.79 billion by 2026."
Source: https://www.prnewswire.com/news-releases/global-agricultural-sensors-market-2022-focus-on-product-application-and-country-analysis-301500865.html
---
Snippet: "The global precision farming market size is anticipated to reach USD 20.84 billion by 2030, registering a CAGR of 12.8%"
Source: https://www.bloomberg.com/press-releases/2022-04-06/precision-farming-market-size-worth-20-84-billion-by-2030-grand-view-research-inc
---
Snippet: "The precision farming market is expected to grow from USD 8.5 billion in 2022 to USD 15.6 billion by 2030, at a CAGR of 7.9%."
Source: https://www.marketsandmarkets.com/Market-Reports/precision-farming-market-1243.html
---
Snippet: "The global blockchain in agriculture and food supply chain market size is expected to grow from $189.48 million in 2021 to $278.60 million in 2022 at a compound annual growth rate (CAGR) of 47.0%. The market is expected to reach $1295.93 million in 2026 at a CAGR of 46.9%."
Source: https://www.thebusinessresearchcompany.com/report/blockchain-in-agriculture-and-food-supply-chain-global-market-report
---
Snippet: "The global IoT in agriculture market was valued at $21.99 billion in 2021, which is expected to grow with a CAGR of 10.1% and reach $35.55 billion by 2026."
Source: https://www.globenewswire.com/news-release/2022/03/04/2396942/28124/en/Global-IoT-in-Agriculture-Market-Report-2022-Increasing-Market-Opportunities-in-Developing-Countries-Favorable-Government-Initiatives-to-Support-IoT-in-Agriculture.html