McKinsey sees positive outlook for AI and productivity
McKinsey & Co have released a 68 page report on AI and its potential for productivity increases across businesses and the economy. In their usual detail, McKinsey quantifies the business opportunities it sees coming from the emerging revolution and presents 63 use cases,
 Across the banking industry, for example, the technology could deliver value equal to an additional $200 billion to $340 billion annually if the use cases were fully implemented. In retail and consumer packaged goods, the potential impact is also significant at $400 billion to $660 billion a year. (McKinsey & Co)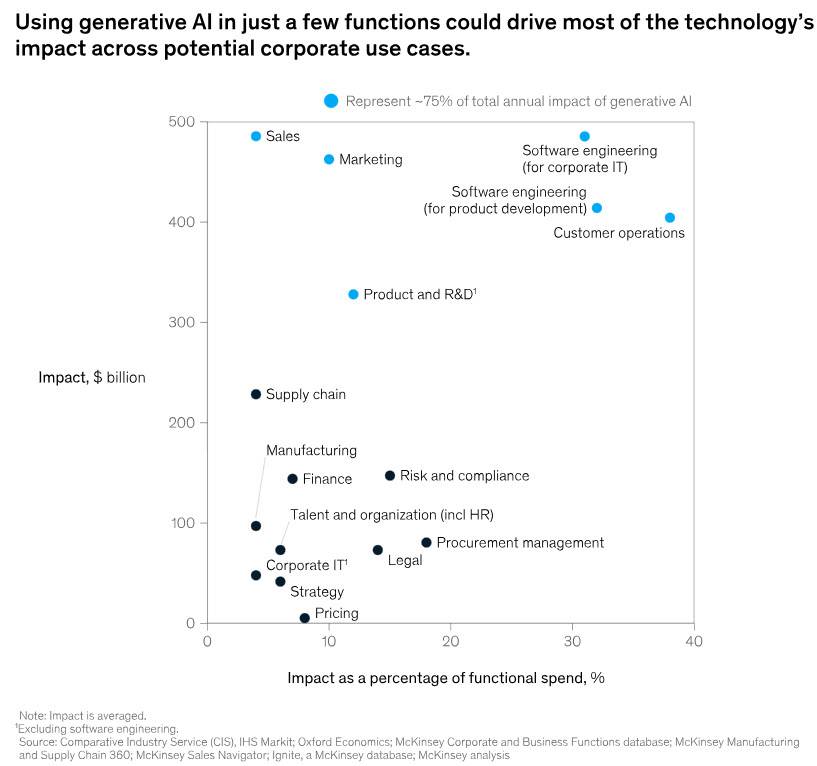 Impact assessments of AI provided for following sectors: High Tech, Banking, Pharmaceuticals and Medical Products, Education, Telecoms, Healthcare, Insurance, Media and Entertainment, Advanced Manufacturing, Consumer Packages goods, Advanced Electronics and Semiconductors.
Download this AI report HERE
Goldman Sachs says AI has potential to raise global GDP by 7%
A bullish case from Goldman Sachs on how AI-induced productivity increases could shift global GDP with a mixed picture on impact on jobs,
As tools using advances in natural language processing work their way into businesses and society, they could drive a 7% (or almost $7 trillion) increase in global GDP and lift productivity growth by 1.5 percentage points over a 10-year period. (Goldman Sachs)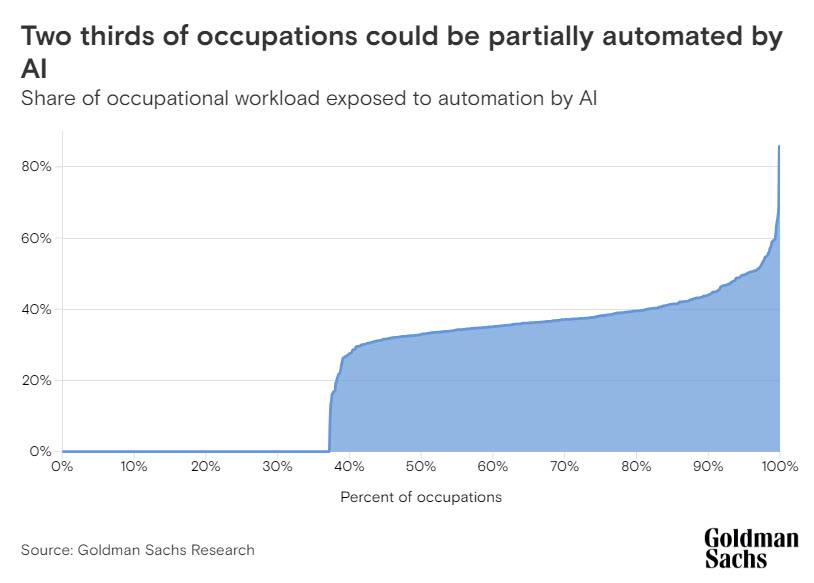 Read this article HERE
Morgan Stanley outlines impact of AI on industry sectors
Some useful thoughts on how different sectors and business processes could be positively impacted by AI. On CRM for example,
Client representatives could use historical data to create forecasts and actionable insights and provide advice. Generative AI applications could take notes, provide summaries, send emails, run a marketing campaign and communicate tailored offerings to upsell. They could also help automate returns, assess customer satisfaction and drive loyalty.
Read this article HERE
Gartner releases data from global survey on AI 
Gartner has released some top-level data from its survey of 833 business leaders from 3 continents and across 21 industries and their thoughts on GenAI. Result include business leaders' views on barrier to AI adoption, benefits of GenAI adoption, use cases and plans for GenAI investments.
Download this report HERE