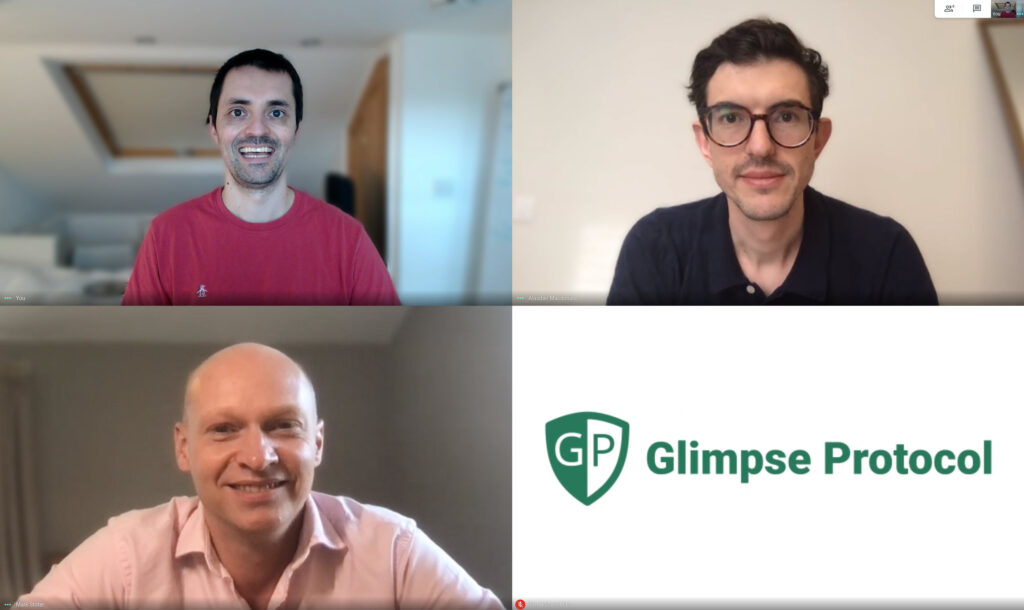 Digital marketing is entering a new phase of innovation. Pressure from governments, legislators and consumers over online privacy and an impending clampdown on the use of cookies by Apple and Google through their browsers, is forcing advertisers to find new ways of targeting consumers.
This presents enormous challenges for marketers and could potentially reinforce the dominant positions of the internet giants as their gatekeeper roles strengthen. Glimpse Protocol, in the UK, is using advanced cryptographic techniques and the founders' knowledge of cyberwarfare to address these problems in a particularly innovative way. In this interview, 2 of the co-founders, Alasdair Macdonald and Mark Stoter, outline the company's decentralised approach to helping advertisers reach consumers online while working within the legal and technical constraints facing the industry.
Martin: Could you give us a brief overview of what Glimpse Protocol does and why it was founded?

Alasdair / Mark: Glimpse is founded around a technical innovation that changes the relationship between consumer data and businesses. Setting out to transform privacy online, we saw the biggest tension, and therefore biggest opportunity for our technology, was within digital advertising. 

Digital advertising is facing a once-in-a-generation level of disruption driven by consumer privacy expectations, regulation, and technical change. In this flux, we offer a new approach based on a decentralised data system. With Glimpse's edge processing, personal data is retained with the consumer, and is never accessible to any third party.


Martin: How does Glimpse Protocol's approach to protecting personal privacy online differ from existing approaches?

Alasdair / Mark: Decentralised data processing can offer solutions to many existing privacy concerns online and there are an encouraging number of start-ups and enterprises taking advantage of this approach. 

However, edge processing alone does not deliver total privacy or compliance. For example, there is no point privately processing data in a decentralised system if the results of this computation are then re-centralised or easily tracked when made available to a third party.

What makes Glimpse unique, and particularly interesting as a digital advertising platform, is the way in which our technology handles identity and the cryptography we use to preserve anonymity. In brief, our technology ensures no personal information is ever seen, transferred or exposed to any 3rd party while still allowing an advertising campaign to be delivered effectively. 

From day one, we have built Glimpse to comply with existing and forthcoming legislation and specifically the ICO's June 2019 report into Adtech. This first-principles approach allows us to see beyond current disruption and work with partners who want to adopt a future-proofed way of delivering digital ads.


Martin: Where does Glimpse Protocol sit in the digital advertising value chain in terms of users, advertisers, agencies, publishers and data exchanges?

Alasdair / Mark: While we bring huge privacy benefits for consumers, we are a B2B company: we integrate with publishers and deliver compliant, cookieless advertising campaigns for brands and agencies. 


Martin: What are some of the key challenges in launching a new digital marketing service in such a competitive market?

Alasdair / Mark: Across the last 12 months, Covid disruption, to some extent, has narrowed industry focus on revenue and immediate quarterly targets. That said, Google's recent announcements around Chrome's Privacy Sandbox have changed the conversation. The market is competitive and noisy, however, and we are in a period of significant disruption. Google has introduced a seismic problem set with no clear solution together with a 6 months countdown. For clients looking ahead, Glimpse provides a live product for piloting and adoption now. This is proving a great context to start a conversation and bring our product to market. 


Martin: As your company expands, what are some of the key skills you are looking to recruit for?

Alasdair / Mark: We're always looking for great engineers who connect with our mission and want to build a product that will improve privacy for millions of internet users.

 
Martin: How do you see the data protection regime evolving in the UK post-Brexit?

Alasdair / Mark: In the short term, it's good to see that the EU's draft decision to allow data to continue to flow between Europe and the UK. As the statement says, for now, the UK is still very much part of the European privacy family and we expect the normative influence of EU data regulations to persist in the UK. Recent legislation in Brazil (LGPD), California (CPRA), and most recently Virginia (CDPA) shows a global direction of travel towards standards set by GDPR. In this context, it is hard to see a significant unilateral deregulation by the UK post Brexit.


Martin: You recently raised £1.3m in a funding round. How do you plan to use that investment?

Alasdair / Mark: Yes, we were fortunate to be over-subscribed in our seed round. We are investing most of the capital in increasing our engineering team, adding pace to our development and keeping up with demand.