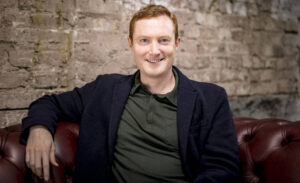 I recently sat down with Gus Tugendhat, founder of UK-based government tenders and contracts data provider, Tussell. Gus told me about the origins of Tussell, the market it is addressing, its data-driven solution for businesses tendering for public sector contracts and the challenges of growing this innovative startup business.
Martin: Tell me a bit about the history of Tussell.
Gus: I formed the company in March 2015 with tech co-founder John Rotherham. My background is in finance and the information sector while John provided the technical expertise. For small startups it's really important for the founders to be able to bring different core strengths to the table from building a product, launching and then monetizing it. Since 2005 we've grown organically to a team of 9 people with a fairly even split between product and tech and those working in marketing and sales.
Martin: What was the core business rationale for Tussell?
Gus: I realised there was an untapped market in the UK for clarity and context surrounding the billions of pounds spent on public procurement. UK public procurement was worth about £220bn in 2017 – equivalent to more than 10% of UK GDP. Bloomberg and Reuters have done this for the financial markets but nobody has yet done it for the procurement market. I sensed there was a good business model around filling this gap.
We want to make it as easy as possible for companies to do business with the government – in the UK and around the world. The market already has lots of tender portals but nobody has taken the tenders and contracts and turned them into an intelligent database which can be mined efficiently. We're different in that the portals are just collections of public sector invitations to tender and operate on a reactive basis. We aim to help our customers to anticipate opportunities.
Martin: Can you talk a bit about this strategy?
Gus: Sure. So for example, if you want to bid for a contract on cyber security it is useful to know how much the government has spent on cyber security over the last few years, how fast the market has grown, who are the big suppliers, how does this break down by category of government body and the average size and duration of contract. Being able to answer these questions allows our clients to be more strategic and ideally bid less and have a higher hit rate.
Being focused on how we can help our customers solve problems is at the core Tussell. Nobody gets up in the morning saying they want to pay for data. They get up saying they want to win more business. You have to link the data to the client's desired outcome, not just as a means to do research.
Martin: Where do you source your data from?
Gus: We have three core sources: Contractfinder.gov.uk, UK data from Tenders Electronic Daily (TED) and Public Contracts Scotland.  We aggregate the data from these providers via their APIs and then clean and standardise it. We then file match it against the UK's Companies House and Bureau Van Dijk data sets for consistency and accuracy. This also allows us to create robust company identifiers and to provide financial information on the suppliers in our database. We like to say that "We turn open data into useful data". We have a rolling programme of integrating other 3rd party data sources to create an ever richer product in terms of coverage and accuracy.
Martin: Where do your clients come from?
Gus: Our sweet spot is selling to large-cap corporates that want to win public contracts. What we call B2G (Business to Government). We cover all sectors and all types of government entity. We can generate our own sales leads by analysing the 80,000 suppliers to government that are in our own database. On account of the sheer volume of these suppliers, we expect this target market to be our biggest overall. In 2019 we will launch a lighter, cheaper SME offering in order to go after the long tail.
We also serve capital markets firms. In essence they are searching leading indicators of investment opportunity or risk among companies with exposure to government contracts. Equity analysts, asset managers and hedge funds use our data to analyse companies like Babcock, Capita and G4 and sectors like Construction, Defence, IT Services etc. This was actually our first target market as it's the one I hail from. Besides, banks are good customers for data because they have the budgets and are tech-savvy.
Our third target market is government itself. Several central government departments use our online service or dashboards produced from it to better understand their own supply chain. In the wake of Carillion, there is a big appetite for market intelligence and supply chain risk analysis. Public bodies also use the data to measure things like their compliance with transparency requirements or to promote social value in their supply chain. We expect this market to grow substantially, both in central government and local government.
Lastly, a market we stumbled upon is selling data as a form of lead generation for B2B companies. When SMEs win a government contract, typically the next thing they do is seek financing, insurance, recruitment and other expansion-related services. These suppliers are good prospects for companies that can fulfill these needs. Our database, therefore, because a source of sales leads for creditworthy SMEs in growth mode. There seems to be a dearth of SME triggers in the market and we are able to fill that gap.
Martin: What has been one of the biggest challenges growing Tussell?
Gus: Probably reaching a broad enough audience. At first we relied heavily on all the exposure we get in the media but, though this is priceless as a way of building credibility, it doesn't in itself drive traffic to your website. So, through trial and error, we've discovered that you have to pull all the levers and then get the right balance between them: PR, online advertising, SEO, partnerships, event-marketing and direct sales. The first challenge is to drive sufficient traffic to your website. Then it's to become effective at converting that traffic into qualified leads. It's a learning curve but we're getting better at that all the time and now we have an effective online lead gen model that is replicable and sustainable. As a content company, the key is to mine your own data to tell a story and then to promote that story as scaleably as possible on your website and those of your partners.
Martin: Your primary inputs are open data feeds. What is the core value that Tussell adds to this?
Gus: Interestingly the best sales we make are to people who are already fully aware of all the free and commoditised data out there but who have found those sources wanting. The real value-add that a company like ours offers is not so much at the front end but more at the back end. It is our aggregation, standardisation, validation and curation that clients really value. This allows our customers to perform complex queries of the data. What makes Tussell successful is less our inside knowledge of public procurement and more our expertise in building and monetising enterprise data solutions. Even though we are still a data aggregator, what makes our proposition defensible – the proverbial moat – is turning that open data into useful data. What we do is difficult and it has taken us several years to get to our present position which others would find very difficult to replicate. So it's a combination of value-add, time-to-market and credibility built up through media attribution.
Martin: How do you go about pricing your product?
Gus: This has been more of trial and error process to find the best price point. This is a new product so we had nothing to really base our pricing on. Segmentation of clients is important but is difficult to calibrate amongst different target markets. We think our future is in offering one platform across multiple price points: a spectrum from a premium serviced offering for large customers, a self-service offering for medium-sized customers, and a very light offering for the long tail of SMEs. Our sales model would vary from high-touch direct sales for the former through to low-touch e-commerce for the latter.
Martin: What new features is Tussell currently working on?
Gus: Data, data, data. Adding more of the contract data that we collect already such that we plug any gaps and mitigate our over-reliance on the underlying sources. Then it's about adding as many adjacent types of data as possible to add more value, to create something unique and differentiated.
Martin: What are your thoughts on public policy and the impact it might have on availability of open data from the public sector?
Gus: I think the genie is out of the bottle in terms of open data accessibility: the government would find it hard to justify becoming less transparent. The government has done a good job in terms of transparency and followed through on their commitments to opening up public data. I'm more worried about things going wrong at a technical level. For example, an API falling over or the unintended consequences of changes the government makes to its platform. Brexit is also a big theme at the moment, in particular what impact it will have on where the government reports its open data. That presents both risks and opportunities for data startups like Tussell – but hope-for-the-best, prepare-for-the-worst is true of most UK companies at the moment!