If smart cities are to become a reality they will rely on access to open data about their environments including transportation, housing, infrastructure and air quality. Intel-owned Moovit, maker of a popular transport data app, is helping to fill the gaps for transportation information. Described as a mobility-as-a-service (MaaS) solutions company, Moovit collects data on more than 680 million public transport users from 104 cities across 28 countries.
The company has just published its 2020 Global Public Transport Report, an interactive report released under a Creative Commons Attribution 4.0 International License. Some highlights include:
46% of Americans said they are most likely or definitely interested in mobile payment methods for mass transit for a safer, more convenient way to pay;
Commute lengths for UK public transport riders travel fell by 24% in 2020, averaging 6.5km per mass transport journey;
Australia has handled COVID-19 quite well, in comparison to other countries, yet 53% of Australians say that how often they ride transport has changed due to the pandemic;
Los Angeles residents have the worst wait times in all North America: 30% of locals wait at stops and stations for more than 20 minutes during a one-way commute;
Jakarta locals endure the longest public transit commute times in the world, while locals of Burgos, Spain enjoy the shortest public transit commute times;
Italians are taking to micromobility: 55% of micromobility users use it to reach their destination directly while the others combine micromobility with public transit;
Brazilians living in Rio de Janeiro have an average commute time of 67 minutes, the 3rd longest in the world.
Moovit's interactive website allows segmentation of the data with comparisons possible across countries, cities and between 2019 and 2020. For example, time spent commuting within the UK for regions in the UK for 2020 shows some interesting variations.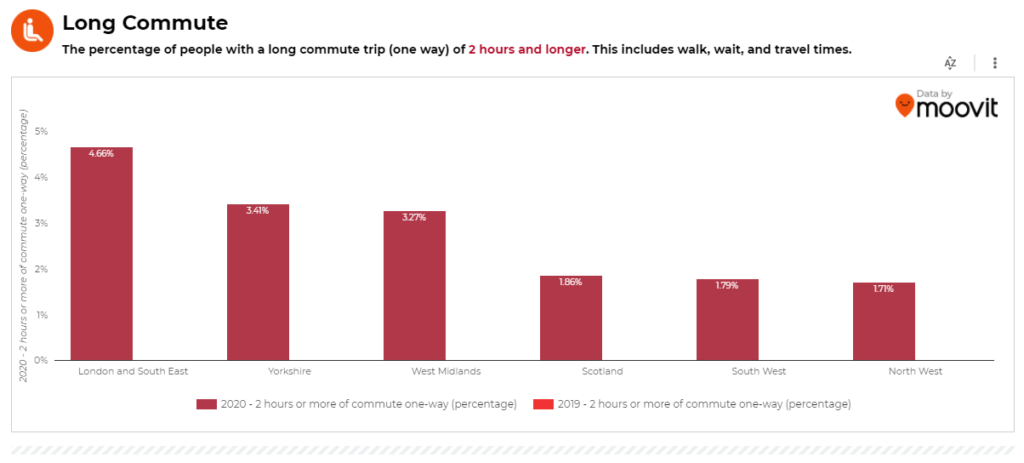 Moovit is working with the Department for Transport (DfT) in the UK to help bus operators make their timetables available through the new Bus Open Data Service (BODS). By making it a legal requirement for operators to publish and store information in the BODS data format it is hoped consumer confidence in bus services will increase along with usage.
Meera Nayyar, head of passenger experience (buses and taxis) at the DfT, said:
"'This will significantly further the ability of BODS to digitally transform the delivery of bus services and, ultimately, the passenger experience. Moovit will help revolutionise the way in which the DfT, and other stakeholders, collect and analyse bus data, enabling us to identify network optimisations more easily and help us support operators in reporting their on-time performance statistics."