UK AgTech Startups
The UK is home to a thriving ecosystem of AgTech startups as well as established firms that are using data to transform farming and food supply chains. As climate change and supply chain issues threaten global food production and distribution, connected data flowing from farms to retailers and consumers is helping to raise yields, lower costs, increase accountability and ensure food gets to where it is needed.
These 5 startups are part of the data-driven agricultural revolution.
The Small Robot Company
The Small Robot Company, based in Porton near Salisbury, uses robotics and AI to offer what it calls "Per Plant Farming". Their farmbots can autonomously plant, monitor and treat arable crops in an energy and cost-efficient way.
The company is currently working on new devices to allow non-chemical weeding of crops which, the company believes, will cut chemical use by up to 95%. 
Chosen as a 2021 Red Herring top 100 Europe Winner amongst Europe's leading private companies offering innovative solutions to the agricultural sector. 
According to Crunchbase, the company has raised £12.4m with the most recent investment of £4m coming from a crowdfunding round in August 2021.
Agrivi
Agrivi is a data-driven software company offering farmers and food producers a range of products to dig deep into operating data to improve crop yields, streamline operations and trace accountability.
Data is collected from sensors and monitoring devices installed across farms and planting locations. 
Empowering users through data is at the centre of Agrivi's mission with the company's founder and CEO Matija Zulj claiming, "Our business API and IoT API enable our customers to exchange the data with third-party systems, whether they want to get data from sensors and machinery into the platform or they want to integrate their enterprise resource planning systems like SAP or Microsoft Dynamics".
Agrivi solutions are also used downstream in food production with Nestlé using Agrivi's 360 Supply Chain Management platform to enhance accountability and ensure best practices amongst the company's farming suppliers.
Since the company's founding in 2013, Agrivi has raised £5.7m. 
Bx Technologies
Bx aims to help mitigate climate change through the use of technology and data to help growers adopt best practices in lowering carbon emissions. Using a data-backed reward system, Bx aims to help growers and food producers remove carbon from farming and supply chains.
The company, formed in 2020, is still in the early stages of working with potential customers to build a community of growers and consumers concerned with more environmentally-focused farming and accountability. 
In July 2021, Bx raised just over £1m bringing their total funding to £2.3m. 
Hectare
Hectare's focus is on leveraging data to improve global agricultural supply chains. Founded in 2015, the company has developed a platform linking data on growing, farm logistics and food production to improve traceability and transportation from farms to retailers.
According to Hectare's CEO, Jamie McInnes, in 2021 the company's platform processed data on $400m of commodities across 7 countries. 
Hectare has been successful in crowdfunding investments with almost £5m raised to date.
Lettus Grow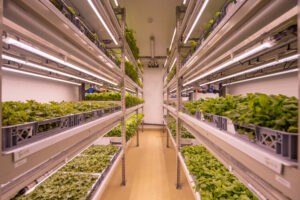 Bristol-based Lettus Grow aims to address sustainability issues in modern agriculture through offering solutions for indoor farming. 
Their aeroponic technology combined with indoor vertical farming is claimed to enable plants to grow twice as fast as hydroponic systems while using less water, fertiliser and no pesticides.Unlike hydroponics where roots are submerged in water, in aeroponics, plant roots are suspended in air and irrigated with a nutrient-dense mist.
According to Charlie Guy, the company's CEO, "We can provide growing systems that enable producers to grow 365 days a year in any geographic or climatic conditions."
Alongside the shipping container-based growing infrastructure, Lettus Grow provides customers with a software platform to remotely check growing conditions and plant growth.
So far, the company has built out 9 sites across the UK and raised £3.4m in funding.