The insurance industry, like most other sectors of the economy, is being transformed by AI. This cuts across all parts of the insurance business from marketing, sales and policy documentation to fraud detection and claims management. 3 key factors are accelerating AI-driven change for insurers:
Users are increasingly expecting insurers to provide digital tools to manage policies and streamline the claims process. According to J.D. Power's 2020 Digital Experience study, there was a 20% increase in customers using digital claims tools over the previous 3 years;

Staff shortages due to COVID and the Great Resignation are driving insurers to automate processes where possible;

Claims processing makes up a significant portion of costs for insurers – 29% according to McKinsey.
AI-driven visual inspections
Computer vision refers to the use of AI software to help computers understand and interpret images. Recent advances have transformed the ability of AI systems to replace humans in analysing digital images and making decisions.
Auto repair shops and car rental firms have been deploying solutions from UVeye and ProovStation where vehicles can be passed through scanning tunnels that captures images from multiple angles. These are then processed by the firms' proprietary technologies to assess the condition of the car, possible damage, replacements parts needed and estimate repair costs.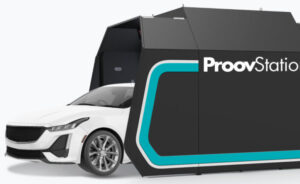 While these solutions save time and money for their users, they require relatively expensive fixed infrastructure. The rise of AI-assisted self-service inspections by consumers using their phone cameras offers a similar experience for end users.
Automated Self-Service Inspections
A number of solutions providers have recently entered the market to provide insurers with the tools that allow policy holders to use their smartphones to initiate a claim. By taking pictures of damage to their vehicles or homes for uploading via an app to their insurer or third party, claim assessments can be largely automated. Innovative self-service solutions are currently offered by Ravin, Tractable, Claim Genius, Monk AI and Flyreel.
Ravin
Israeli-based Ravin has initially focused on the car rental market but its solution is suitable for insurers or any company that manages fleets of vehicles. With more than a billion car inspections being carried out every year by car rental firms, the potential to streamline this process and improve the customer experience is significant.
Ravin's first generation scanning solution used fixed CCTV cameras to scan vehicles but it has recently adapted its technology to run on smartphones for video capture. The company's AI and machine learning (ML) technologies can identify individual cars and assess any damage. Ravin's CEO, Eliron Ekstein, sees benefits of this approach for both fleet owners and end users, "Our platform is able to understand what angle the video is shot at, make sense of what it is seeing, and not only identify a dent on the door, but also provide information as to how to fix it. It allows you to get an estimate on your damages ahead of time before you even return the car."
Founded in 2018, the firm has raised $23 million in funding including a $15 million Series A round in March 2018. 
Tractable
Founded in 2014, London-based Tractable has raised $120 million in funding for its AI-powered solution to automate damage appraisal for insurers. The company claims its technology can analyse claims in real time and predict what repairs are needed with an estimate provided within 15 minutes. 
Tractable is establishing itself with major auto insurers around the world including Mitsui Sumitomo, Geico, Admiral Seguros and Ageas. Insurance industry veteran and Tractable's Head of Automotive, Jimmy Spears says his company's technology has carried out tens of thousands of touchless claims since October 2020 and is having a positive impact on the bottom line for insurers.
Claim Genius
Claim Genius, a US company, believes its AI claims solution can reduce insurers' claims costs by 50% with automated repair estimates offering 90% accuracy in under 10 seconds. Like Ravin, Claim Genius's offering relies on consumers using their phones to take pictures that are then uploaded to the company's platform built on Amazon AWS and Microsoft Azure's cloud infrastructure.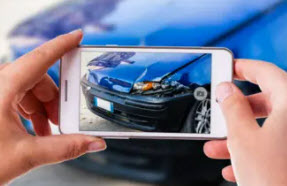 The company recently announced a partnership with Swiss Re to digitize their claims process for European customers. Pranav Pasricha, Swiss Re's Global P&C Head commented, "Our partnership with Claims Genius helps unlock our global data and tech assets to deliver world leading accuracy and speed in auto-claims damage assessments."
Like Tractable, Claim Genius, is integrated into the Mitchell Intelligent Open Platform (MIOP) which is used by US and Canadian insurers for automatically generating repair estimates.
Monk.ai
A recent entrant to the AI-driven automated claims space, Monk.ai is one a growing number of French companies innovating around computer vision. Monk.ai's solution can accept images from phones or fixed cameras in rental premises or repair shops. Like Claim Genius, the company claims to be able to offer repair estimates in 10 seconds. 
Flyreel
While the above companies are focusing on the auto sector to launch their AI solutions, Flyreel has set its sights on the home insurance market. Like the auto solutions, Flyreel allows policy holders to use their phones to carry out home inspections.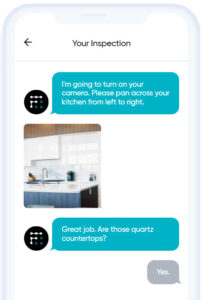 These home inspections can be used to generate quotes, process claims as well identify risks in the property that may have implications for insurance quotations.
AI self-assessment – better for insurers and policy holders
The rise of AI-driven solutions for insurers is still in its infancy. The potential for massive transformation of an industry that has, in many ways, changed little over the last 100 years is significant. 
Most of the above vendors offer APIs to access their AI algorithms and solutions which are being integrated by insurers and other technology provides into a broader range of products. As these systems improve through machine learning, the potential for further change will grow. While there will be implications for jobs within the industry, improvements in the speed and accuracy of processing claims can only benefit insurers and their customers.