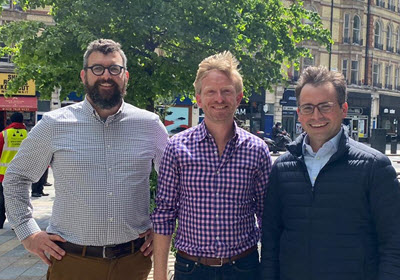 The corporate intelligence sector has a long history with practitioners needing the skills of a private investigator combined with an astute business acumen. It remains a labour-intensive practice but the rise of new technologies and business models is slowly changing the industry. At the forefront of these changes is Ground Truth Intelligence (GTI). In this interview with GTI's founder and CEO, Stewart Kelly, we get a fascinating insight into how his company is applying some of the features of a SaaS business model as well as a platform ecosystem to corporate intelligence for clients around the world.
Could you give us a brief overview of what Ground Truth Intelligence does and why you and your co-founders created the company?
Ground Truth Intelligence has developed the first global corporate intelligence and investigative marketplace platform giving businesses direct access to non-digitised data. Our adaptive algorithm matches and connects clients directly to intelligence and investigative professionals, or network partners, on the ground in over 200 jurisdictions. From due diligence to asset tracing, sources of wealth to market intelligence, we provide a totally transparent approach to accessing research data. With a vetted, invitation-only network of 1500+ strong partners, we offer firms a secure, scalable and cost-effective alternative to the traditional intelligence and investigations model.
As former investigators ourselves, we know that one of the biggest stumbling blocks in the research process is consistent access to non-digitised information. So we decided to do something about it. By giving businesses direct access to a vetted network of on-the-ground data-gathering resources we cut through the noise and get straight to the ground truth. 
What types of customers does GTI have?
We work with all kinds of organisations around the globe, including investment banks, major consultancies, legal providers and international corporations. We support these businesses and their research requirements – from document retrieval or a one-off open source enquiry to thousands of site visits of potential third parties.
You utilise partners in different countries to carry out research for your clients. How do you select these partners?
Integrity and reliability is so important in this kind of work and our clients want to know that they will get quality information when they need it. That's why all of our Network Partners undergo a three stage approval process before they start an assignment.
To start with, members of the GTI team conduct capability and integrity interviews to assess their suitability to join our network.  Prior to onboarding them, we conduct risk-based due diligence, including assessing referrals and reputation; identity checks; confirmation of employment and professional histories; open source media, public records and internet searches; reference checks with former employers and/or current and former clients. For Partners operating in jurisdictions or professional service lines that carry a higher level of risk, we conduct additional due diligence before onboarding and risk-based monitoring of live projects on the platform.
What proportion of the work you do for clients relies on sourcing data from the public domain vs human-generated information?
Currently it's split between the two types. The public domain information tends to be in places where manual processes are still a necessary part of the gathering process, for example retrieving court records or site visits. The human-generated information such as on-the-ground interviews can form a part of a larger investigation or a more strategic piece of work like market entry analysis.
Your business model is very interesting as it combines elements of a SaaS business with a reliance on partners doing bespoke for clients. What are the challenges in scaling this type of business?
We do operate in an area where the digital and non-digital collide but that's exactly the space we feel our clients can achieve maximum benefits. The marketplace element of the business allows us to have resources all over the world but the challenge of this approach is that you have thousands of potential methodologies and report types. This is where a SaaS-enabled marketplace comes into its element. Through the platform, we're standardising research tasks and reports. Even if the research locations are different, the outputs the clients receive will be the same, saving them time and money and making risk identification more straightforward.
Following on from the previous question, what is GTI's revenue model in terms of pricing its services?
Most of our clients have regular requirements and there are different subscription levels for platform access, plus additional fees based on annual usage. There are also a small number of clients who have one-off requests and the platform accommodates them too .
The corporate intelligence sector has generally been a laggard in adopting new technologies and GTI is changing that with its digital platform. Are you seeing your competitors changing the way they do business in response?
The world of corporate intelligence has definitely been slow off the mark when it comes to technology but perhaps that is part of the long-held mystique surrounding the industry? We feel it's our job to innovate in this space, providing a new way to conduct investigations that is totally transparent and technology-enabled. As it stands, we're the only ones in our space giving this level of access to the resources on the ground. We're sure it won't take long before this becomes the industry standard and we're glad to have been a part of the process to better global  investigations.