Finding "reliable" data about the installed base of Internet of Things (IoT) devices, market size and forecasts is not easy and can be expensive if you have to buy a commercial market report. However, there is quite a bit of free data out there which I have collated here. Creating IoT stats is notoriously difficult depending on accuracy of models, assumptions and definitions. Forecasts need to be treated very cautiously. However, by looking through a range of estimates from different providers it should be possible to get a rough idea of how the IoT market may look in the next few years. I have focused on providing links to the original sources where possible.
Feel free to contact me if I have missed anything and I'll amend the list. (Updated 13 May 2021)
Internet of Things Statistics
---
Title: Gartner Survey Reveals 47% of Organizations Will Increase Investments in IoT Despite the Impact of COVID-19
Date: 29 October 2020
Author: Gartner
Summary: "Following the COVID-19 lockdown, the survey found that 35% of organizations reduced their investments in IoT while a larger number of organizations are planning to invest more in IoT implementations to reduce costs."
Graphic: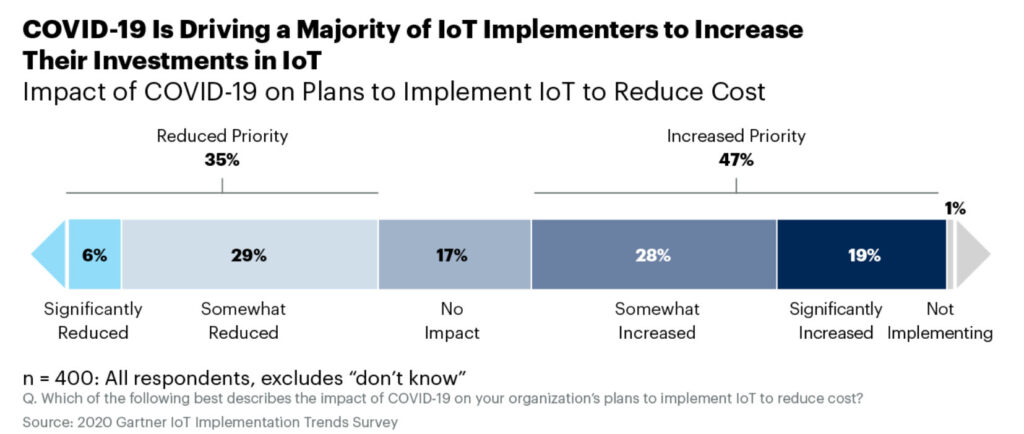 Link: https://www.gartner.com/en/newsroom/press-releases/2020-10-29-gartner-survey-reveals-47-percent-of-organizations-will-increase-investments-in-iot-despite-the-impact-of-covid-19-
---
Title: IoT will see a generation shift in the 2020s: 3.3 billion 5G connections by 2030, 2G/3G shipments to stop in 2028
Date: 13 October 2020
Author: Transforma Insights
Summary: "According to the Connected Devices Forecast the total number of cellular connected IoT devices will grow from one billion at the end of 2019 to 5.4 billion at the end of 2030."
Graphic: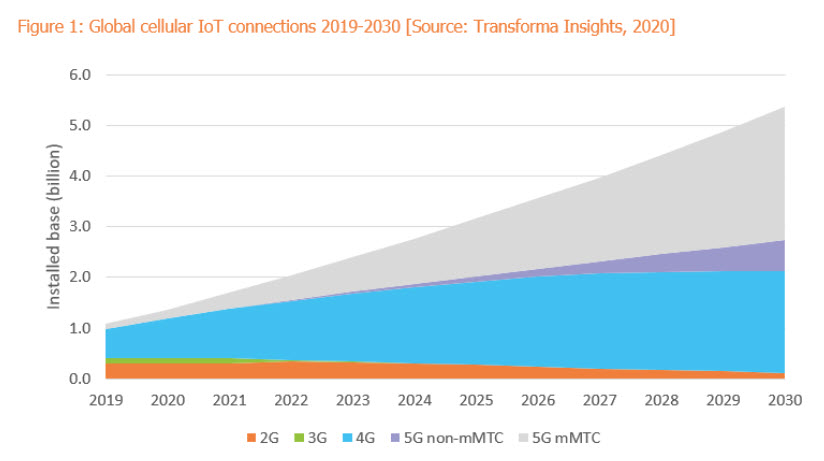 Link: https://transformainsights.com/news/iot-generation-shift-2020s-5g-connections-2G3G
---
Title: Gartner Says Government IoT Revenue for Endpoint Electronics and Communications to Total $15 Billion in 2020
Date: 5 October 2020
Author: Gartner
Summary: "The global government Internet of Things (IoT) endpoint electronics and communications market will total $14.7 billion in 2020, an increase of 6% from 2019, according to Gartner, Inc."
Graphic: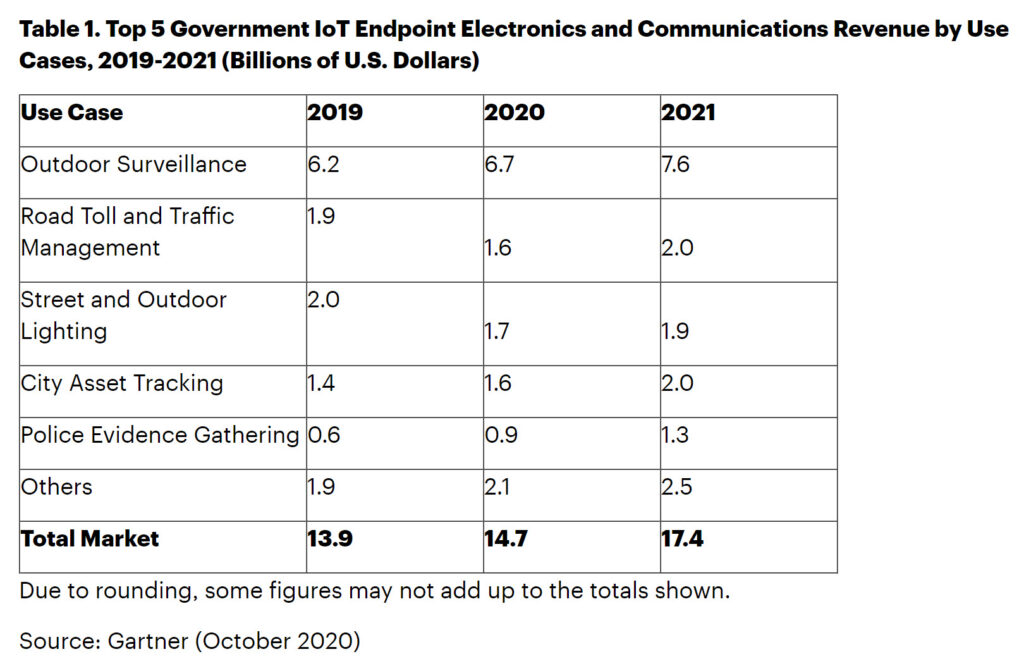 Link: https://www.gartner.com/en/newsroom/press-releases/2020-10-05-gartner-says-government-iot-revenue-for-endpoint-electronics-and-communications-to-total-15-billion-in-2020
---
Title: IoT Growth Demands Rethink of Long-Term Storage Strategies
Date: 28 July 2020
Author: IDC
Summary: "IDC predicts that by 2025 there will be 55.7 B connected devices worldwide, 75% of which will be connected to an IoT platform. IDC estimates data generated from connected IoT devices to be 73.1 ZB by 2025, growing from 18.3 ZB in 2019. Most of this data arises from security and video surveillance, but Industrial IoT applications will also take a significant portion of this data.
Based on the assets across different use cases of IoT, IDC has designed a model which considers the level of redundancy and need for short-term or long-term storage. It is projected that Permanent storage requirements for 4K video data will reach 26,680 exabytes across connected assets in Asia/Pacific* by 2025, growing at a 5-year compound annual growth rate of 23.2%."
Graphic: N/A
Link: https://www.idc.com/getdoc.jsp?containerId=prAP46737220
---
Title: Worldwide Spending on the Internet of Things Will Slow in 2020 Then Return to Double-Digit Growth
Date: 18 June 2020
Author: IDC
Summary: "Worldwide spending on the Internet of Things (IoT) has been significantly impacted by the economic effects of the COVID-19 pandemic in 2020, although a back to double-digit growth rebound is expected both in the mid and long-term. A new update to the International Data Corporation (IDC) Worldwide Internet of Things Spending Guide shows IoT spending growing 8.2% year over year to $742 billion in 2020 down from 14.9% growth forecast in the November 2019 release. Nevertheless, IDC expects global IoT spending will return to double-digit growth rates in 2021 and achieve a compound annual growth rate (CAGR) of 11.3% over the 2020-2024 forecast period."
Graphic:
Link: https://www.idc.com/getdoc.jsp?containerId=prUS46609320
---
Title: Cisco Annual Internet Report (2018–2023) White Paper
Date: 9 March 2020
Author: Cisco
Summary: "Internet of Things (IoT) have become a prevalent system in which people, processes, data, and things connect to the Internet and each other. Globally, M2M connections will grow 2.4-fold, from 6.1 billion in 2018 to 14.7 billion by 2023 (Figure 4). There will be 1.8 M2M connections for each member of the global population by 2023."
Graphic: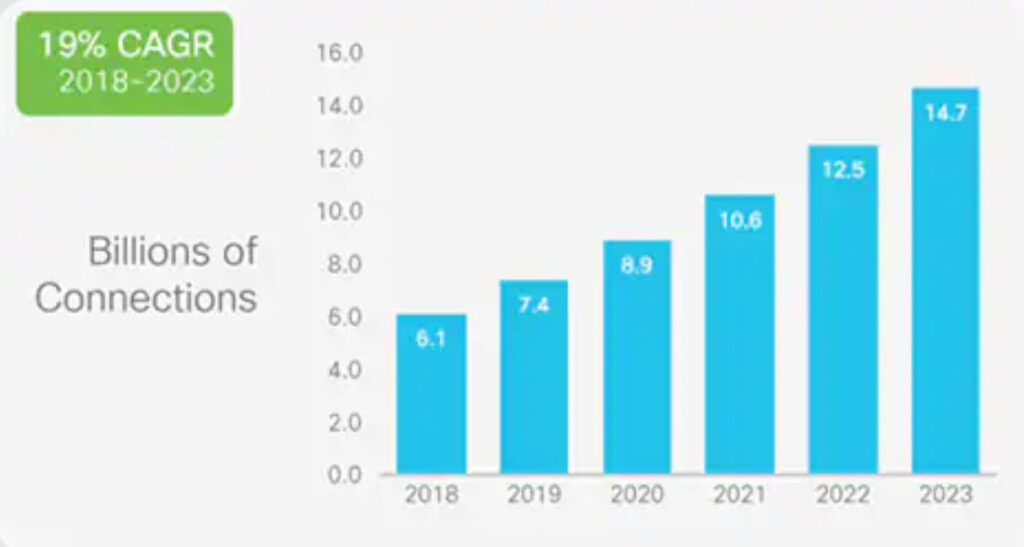 Link: https://www.cisco.com/c/en/us/solutions/collateral/executive-perspectives/annual-internet-report/white-paper-c11-741490.html#Executivesummary
---
Title: Gartner Says 5.8 Billion Enterprise and Automotive IoT Endpoints Will Be in Use in 2020
Date: 29 August 2019
Author: Gartner
Summary: "Gartner, Inc. forecasts that the enterprise and automotive Internet of Things (IoT) market will grow to 5.8 billion endpoints in 2020, a 21% increase from 2019. By the end of 2019, 4.8 billion endpoints are expected to be in use, up 21.5% from 2018."
Graphic:
Link: https://www.gartner.com/en/newsroom/press-releases/2019-08-29-gartner-says-5-8-billion-enterprise-and-automotive-io
---
Title: Gartner Identifies Top 10 Strategic IoT Technologies and Trends
Date: 7 November 2018
Author: Gartner
Summary: "Gartner forecasts that 14.2 billion connected things will be in use in 2019, and that the total will reach 25 billion by 2021, producing immense volume of data."
Link: https://www.gartner.com/en/newsroom/press-releases/2018-11-07-gartner-identifies-top-10-strategic-iot-technologies-and-trends
---
Title: Gartner Says 8.4 Billion Connected "Things" Will Be in Use in 2017, Up 31 Percent From 2016
Date: 7 February 2017
Author: Gartner
Summary: "Gartner, Inc. forecasts that 8.4 billion connected things will be in use worldwide in 2017, up 31 percent from 2016, and will reach 20.4 billion by 2020. Total spending on endpoints and services will reach almost $2 trillion in 2017."
Graphic: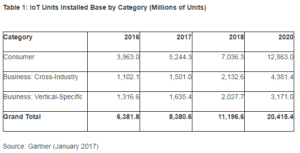 Link: http://www.gartner.com/newsroom/id/3598917
---
Title: Winning in IoT: It's All About the Business Processes
Date: 5 January 2017
Author: Boston Consulting Group (BCG)
Summary: "Our analysis uncovered three major findings. One, there is no such thing as "the" Internet of Things: today's market is heavily driven by specific use case scenarios. Two, while in the aggregate, companies will spend an incremental €250 billion on IoT in 2020 (over and above their normal technology spending), three industries will account for approximately 50% of that spending. And three, although all layers of the IoT technology stack are poised to grow through 2020, the layers are not equally attractive."
Graphic: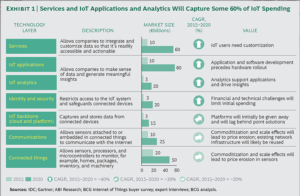 Link: https://www.bcgperspectives.com/content/articles/hardware-software-energy-environment-winning-in-iot-all-about-winning-processes/
---
Title: Machina Research expands the scope of its IoT forecasts and highlights a USD4 trillion revenue opportunity in 2025
Date: 3 May 2016
Author: Machina Research
Summary: "Machina Research comprehensively extends the coverage of its forecasts to include almost the entirety of the Internet of Things revenue opportunity, predicting it will rise from USD892 billion in 2015 to USD4 trillion in 2025."
Graphic: n/a
Link: https://machinaresearch.com/news/machina-research-expands-the-scope-of-its-iot-forecasts-and-highlights-a-usd4-trillion-revenue-opportunity-in-2025/
---
Title: Machina Research expands the scope of its IoT forecasts and highlights a USD4 trillion revenue opportunity in 2025
Date: 3 May 2016
Author: Machina Research
Summary: "Machina Research comprehensively extends the coverage of its forecasts to include almost the entirety of the Internet of Things revenue opportunity, predicting it will rise from USD892 billion in 2015 to USD4 trillion in 2025."
Graphic: n/a
Link: https://machinaresearch.com/news/machina-research-expands-the-scope-of-its-iot-forecasts-and-highlights-a-usd4-trillion-revenue-opportunity-in-2025/
---
Other Resources:
For a good overview of paid-for market reports see this page from Postscapes.
Forbes has a summary of market size estimates and forecasts (published in November 2016)
AT&T has a useful infographic for the IoT and everyday objects