Finding "reliable" data about the installed base of Internet of Things (IoT) devices, market size and forecasts is not easy and can be expensive if you have to buy a commercial market report. However, there is quite a bit of free data out there which I have collated here. Creating IoT stats is notoriously difficult depending on accuracy of models, assumptions and definitions. Forecasts need to be treated very cautiously. However, by looking through a range of estimates from different providers it should be possible to get a rough idea of how the IoT market may look in the next few years. I have focused on providing links to the original sources where possible.
Feel free to contact me if I have missed anything and I'll amend the list. (Updated 4 January 2023)
Upcoming UK Technology Events, Conferences and Exhibitions
Internet of Things Statistics
Title: IoT Forecasts to 2030
Date: 23 December 2022
Author: Transforma Insights
Summary: "The installed base of IoT connections will grow rapidly over the decade to 2030. Transforma Insights defines IoT connections as connections to remote sensing and actuating devices, and we include associated aggregation devices. The sheer addressable size of the consumer market results in consumer devices dominating the forecasts in 2030, including devices such as connected televisions and smart watches. Vertical-specific markets are far more fragmented, but also include smart metering applications which account for significant numbers of connections. Cross-vertical (enterprise) markets include vertical-agnostic applications such as connected heating ventilation and air conditioning systems and connected security systems deployed in an enterprise context. Greater China is the largest region, closely followed by Europe and North America."
Graphic:
Link: https://transformainsights.com/research/forecast/highlights
---
Title: IoT connections outlook
Date: November 2022
Author: Ericsson
Summary: "Globally, 124 service providers have deployed or commercially launched NB-IoT networks and 57 have launched Cat-M, while 56 have deployed both technologies.(1) The number of devices connected by these technologies grew strongly in 2021 and is expected to reach almost 500 million by the end of 2022. The growth of Massive IoT technologies is enhanced by added capabilities in the networks, enabling Massive IoT co-existence with 4G and 5G in FDD bands, via spectrum sharing.
IoT devices connected via 2G and 3G have been in slow decline since 2019, and have a negative annual growth rate of around 15 percent up to 2028, as the rate of switch-off for both technologies, especially 3G, continues to increase in the coming years.
In 2021, broadband IoT (4G/5G) reached 1 billion connections, overtaking 2G and 3G as the technology that connects the largest share of all cellular IoT devices. By the end of 2028, almost 60 percent of cellular IoT connections are forecast to be broadband IoT, with 4G connecting the majority. As 5G New Radio (NR) is being introduced in old and new spectrum, throughput data rates will increase substantially for this segment.
Graphic: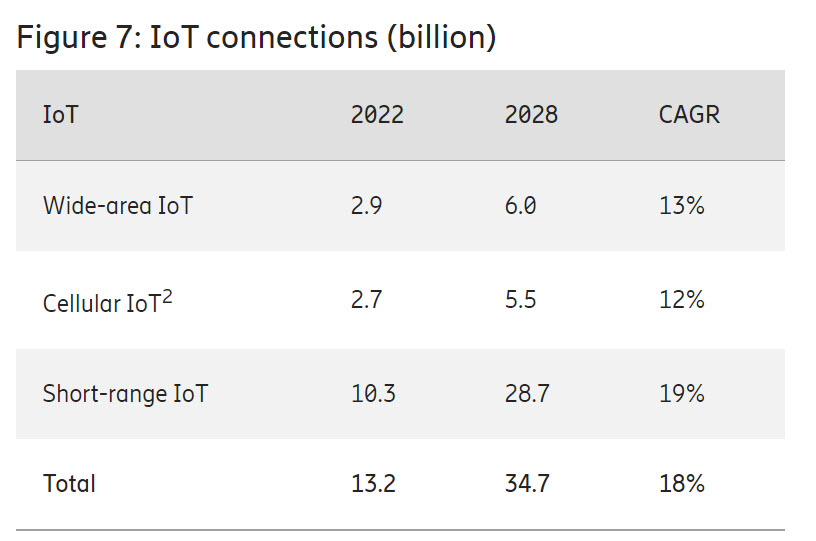 Link: https://www.ericsson.com/en/reports-and-papers/mobility-report/dataforecasts/iot-connections-outlook
---
Title: Asia/Pacific Internet of Things Spending to Reach $436 Billion in 2026
Date: 13 June 2022
Author: IDC
Summary: "According to IDC's latest Worldwide Semiannual Internet of Things Spending Guide , the IoT market in Asia/Pacific will continue to grow in 2022 by 9.1%, accelerating from 6.9% in 2021. Headwinds such as semiconductor shortages and supply chain disruption caused by geopolitical tensions have limited the growth in 2022 to single digits, and rising inflation may dampen growth. However, rising demand for remote operations, better network coverage, and the deployment of commercial 5G and testbeds are driving IoT adoption in the region. IDC expects Asia/Pacific spending on Internet of Things(IoT) to reach $436 billion in 2026, with a CAGR of 11.8% percent for the period 2021-2026."
Graphic:
Link: https://www.idc.com/getdoc.jsp?containerId=prAP49284322
---
Title: European IoT Spending Continues Its Double-Digit Growth
Date: 10 June 2022
Author: IDC
Summary: "International Data Corporation's (IDC) Worldwide Semiannual Internet of Things Spending Guide estimates that enterprises' IoT spending will reach $208 billion in 2022 in Europe and continue to experience double-digit growth through 2026. Despite facing many uncertainties due to the pandemic, inflation, low demand, supply chain disruption, and geopolitical conflicts, IDC expects the European IoT market to continue to develop and expand, though at a slower pace than before the Russia-Ukraine War. This growth will continue in 2022 in various sectors such as manufacturing, retail, infrastructure, and healthcare, where the need to maintain operations and improve performance is imperative."
Graphic: N/A
Link: https://www.idc.com/getdoc.jsp?containerId=prEUR149276822
---
Title: IoT forecast: connections, revenue and technology trends 2021–2030
Date: 25 November 2021
Author: Analysys Mason
Summary: "The number of IoT connections will grow at a CAGR of 15% between 2020 and 2030, but revenue growth will be slower due to the sustained competitive pressure in the connectivity market. The total number of IoT connections worldwide will increase from 1.8 billion at the end of 2020 to 6.2 billion in 2030. The COVID-19 pandemic disrupted the IoT market in 2020 and some sectors continued to be adversely affected in 2021, but the growth rate for the number of IoT connections worldwide will remain in the double digits throughout the forecast period."
Graphic: N/A
Link: https://www.analysysmason.com/research/content/regional-forecasts-/iot-worldwide-forecast-rdme0/
---
Title: IoT connections outlook
Date: November 2022
Author:
Summary:
Graphic:
Link:
---
Title: Gartner Survey Reveals 47% of Organizations Will Increase Investments in IoT Despite the Impact of COVID-19
Date: 29 October 2020
Author: Gartner
Summary: "Following the COVID-19 lockdown, the survey found that 35% of organizations reduced their investments in IoT while a larger number of organizations are planning to invest more in IoT implementations to reduce costs."
Graphic: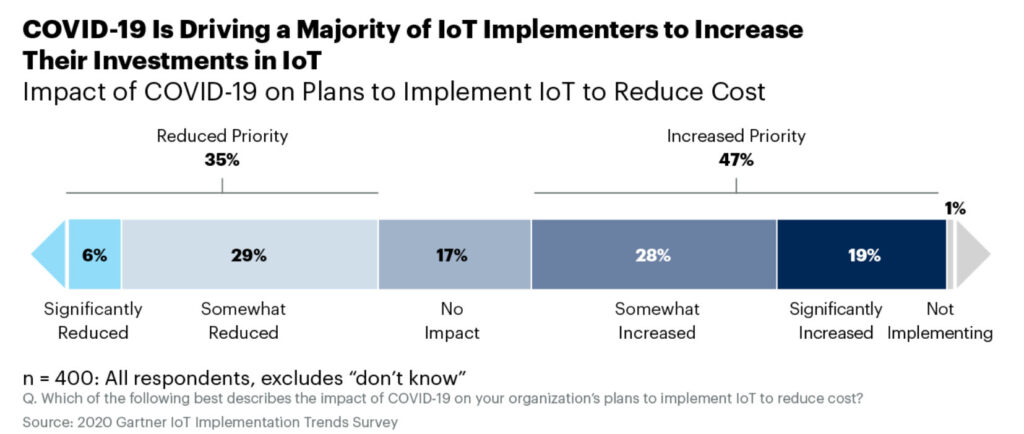 Link: https://www.gartner.com/en/newsroom/press-releases/2020-10-29-gartner-survey-reveals-47-percent-of-organizations-will-increase-investments-in-iot-despite-the-impact-of-covid-19-
---
---
Title: Gartner Says Government IoT Revenue for Endpoint Electronics and Communications to Total $15 Billion in 2020
Date: 5 October 2020
Author: Gartner
Summary: "The global government Internet of Things (IoT) endpoint electronics and communications market will total $14.7 billion in 2020, an increase of 6% from 2019, according to Gartner, Inc."
Graphic: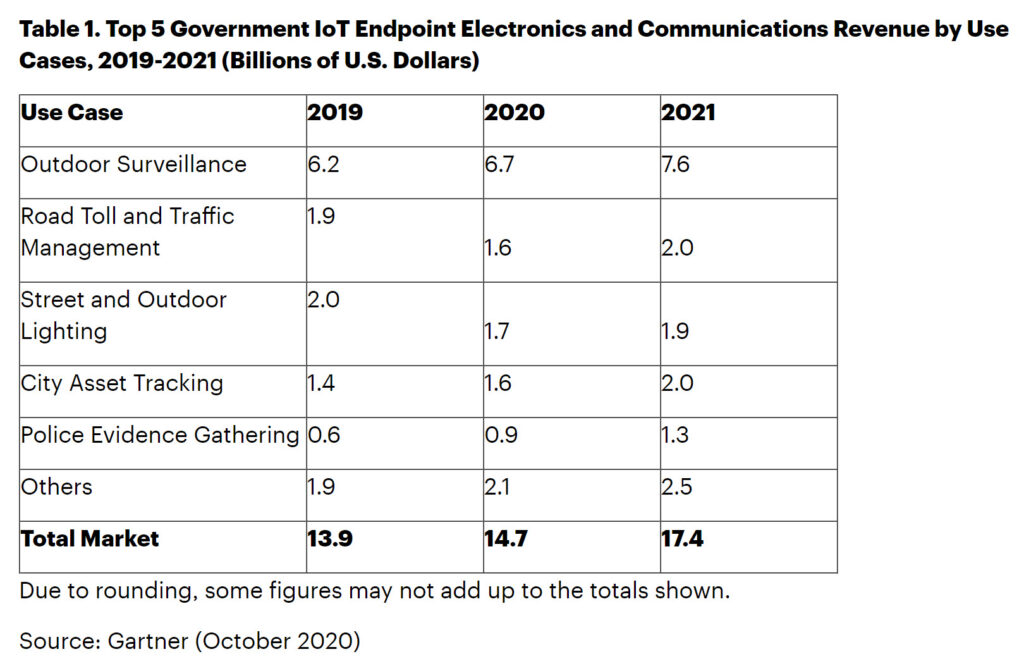 Link: https://www.gartner.com/en/newsroom/press-releases/2020-10-05-gartner-says-government-iot-revenue-for-endpoint-electronics-and-communications-to-total-15-billion-in-2020
---
---
---
Title: Cisco Annual Internet Report (2018–2023) White Paper
Date: 9 March 2020
Author: Cisco
Summary: "Internet of Things (IoT) have become a prevalent system in which people, processes, data, and things connect to the Internet and each other. Globally, M2M connections will grow 2.4-fold, from 6.1 billion in 2018 to 14.7 billion by 2023 (Figure 4). There will be 1.8 M2M connections for each member of the global population by 2023."
Graphic: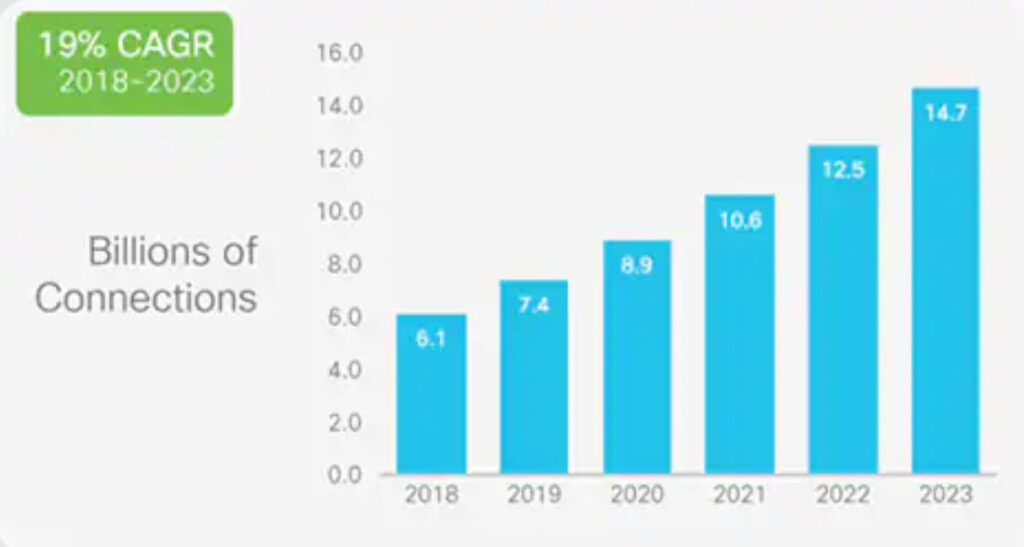 Link: https://www.cisco.com/c/en/us/solutions/collateral/executive-perspectives/annual-internet-report/white-paper-c11-741490.html#Executivesummary
---
Title: Gartner Says 5.8 Billion Enterprise and Automotive IoT Endpoints Will Be in Use in 2020
Date: 29 August 2019
Author: Gartner
Summary: "Gartner, Inc. forecasts that the enterprise and automotive Internet of Things (IoT) market will grow to 5.8 billion endpoints in 2020, a 21% increase from 2019. By the end of 2019, 4.8 billion endpoints are expected to be in use, up 21.5% from 2018."
Graphic:
Link: https://www.gartner.com/en/newsroom/press-releases/2019-08-29-gartner-says-5-8-billion-enterprise-and-automotive-io
---
Title: Gartner Identifies Top 10 Strategic IoT Technologies and Trends
Date: 7 November 2018
Author: Gartner
Summary: "Gartner forecasts that 14.2 billion connected things will be in use in 2019, and that the total will reach 25 billion by 2021, producing immense volume of data."
Link: https://www.gartner.com/en/newsroom/press-releases/2018-11-07-gartner-identifies-top-10-strategic-iot-technologies-and-trends
---